Responding to the prompt "artist on standby", my work is fundamentally about my feelings of stagnation and isolation during the pandemic. I was also drawn towards the photographs coming from the Space Telescope Science Institute and the James Webb Telescope, particularly the photos of Stephan's Quintet. I was able to see metaphors in the creation of galaxies, distance and time in outer space, and the groups of stars. Stephan's Quintet is a cluster of galaxies moving and exploding over a length of time that is difficult to comprehend, gradually shifting to make something entirely new. Projecting onto and anthropomorphizing the stars is a long-standing human tradition and I wanted to continue that here with my feelings over the course of the pandemic. Looking at this specific collection became more aspirational than despondent and made me feel more optimistic about my future.
VISUAL MATERIALS – images, videos etc…
https://www.nasa.gov/image-feature/goddard/2022/nasa-s-webb-sheds-light-on-galaxy-evolution-black-holes
https://webbtelescope.org/contents/media/images/2022/034/01G7DA5ADA2WDSK1JJPQ0PTG4A
About the PROCESS
Thinking along these lines, I began to paint. The photos coming from the team at the Space Telescope Science institute are beautiful and fascinating, so it was important to make sure I wasn't just copying them. I examined the photographs, experimented on my computer and in my sketchbook, trying to decide on colour palettes and textures. After doing some trials on paper and board, I moved to a large canvas and worked with a focus on vibrant colours and a sense of movement. I then brought the painting into a digital space. I created a short, animated video to share the painting online.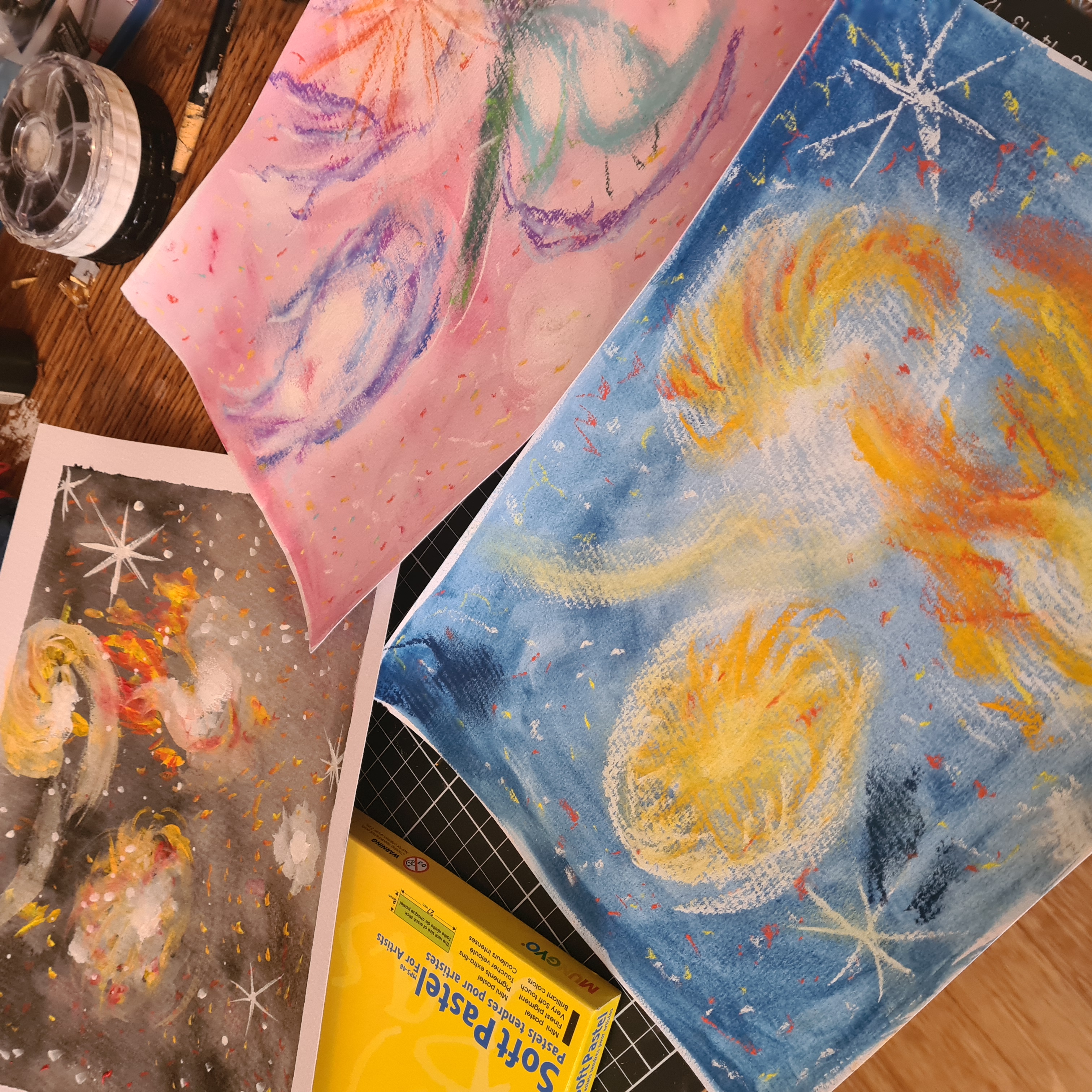 AUSTRALIA I VISUAL ARTIST
Australian artist Anastasia Scala currently resides in her hometown Perth but has travelled and studied art around the world. She completed her undergraduate studies at the Pratt Institute in New York City, where she studied Illustration. Then she went on to work in London, where her fascination with museums and history really took hold. Upon returning to Australia, Anastasia completed a Master of Arts at Curtin University, producing artworks surrounding the myth of Medusa and how her iconography has been used throughout the history of art. She has exhibited in local exhibitions and online.